Top 15 Playgrounds In the US
Posted by Joseph Peyton on 8th Jun 2015
Compiled are 20 of the most unique and fun looking playgrounds around the United States. If you are ever traveling around one of these areas with your kids, make some extra time to let them experience one of these magnificent places. Their imagination will surely thank you.
1. Kamakana Playground: Kona, Hawaii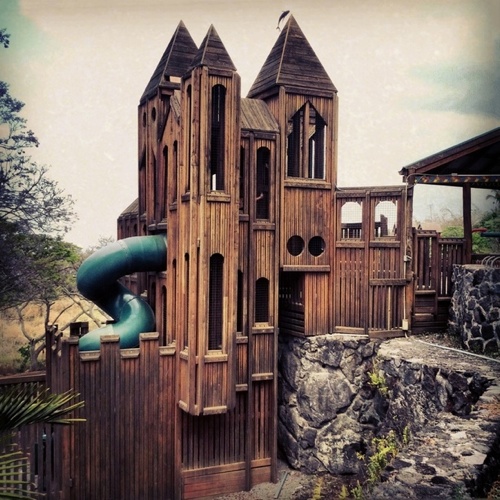 Three wooden castle structures, a boat, a train, a humpback whale, swings, slides, monkey bars, checkerboards, picnic tables and huge old shade trees. It's even fun as an adult. Very well built and has tons of fun stair mazes,slides, swings, and places to climb.
2. Woodland Discovery Playground: Memphis, Tennessee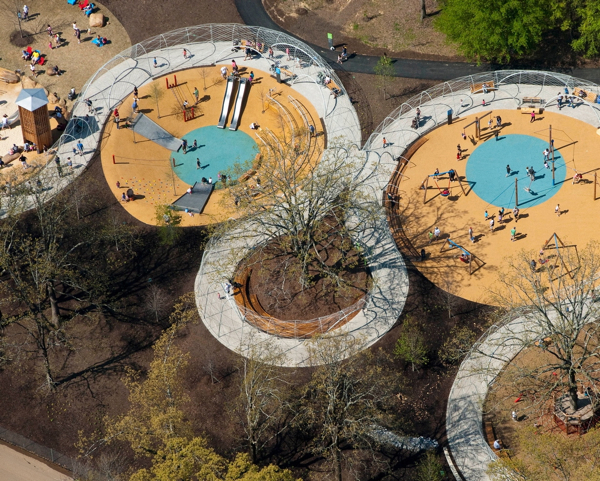 Inspired by how Memphis children said they wanted to play, and invigorated by the community's ambition to do something truly different, James Corner Field Operations delivered a play landscape that is as much a work of art as it is a game-changing amenity. As one of the first projects in the world to be certified by the Sustainable Sites Initiative, the playground sets a new international standard for natural, educational and environmental play.
3. Project Playground: Juneau, Alaska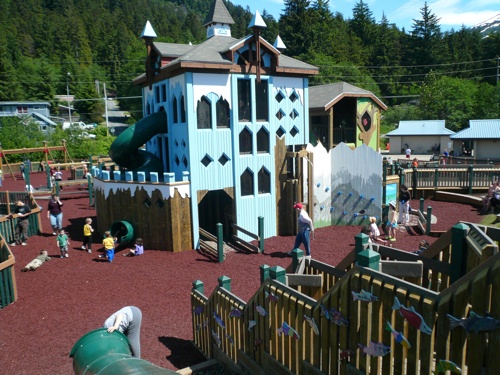 Project Playground at Twin Lakes provides children of all ages and abilities a place to stimulate their minds and imaginations—and is arguably Alaska's premier playground. Since its construction the playground has been enjoyed by thousands of Juneau's children and visitors (and their parents and grandparents watching their children!). The playground has become Juneau's newest community icon, and is sought out by independent travelers and families who visit by cruise ship.
4. Zachary's Playground: Lake Saint Louis, Missouri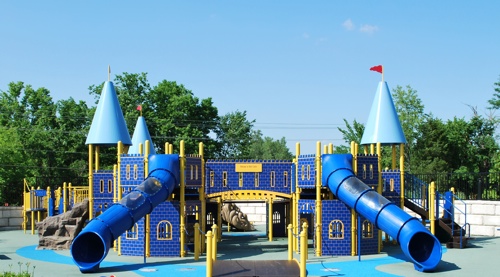 All equipment meets or exceeds ADA standards. That means all of the playground's equipment is designed to be accessible for children of all abilities – from the tallest slide to the lowest play panel.
Features:
Theme – Castle and boat theme for countless hours of imaginative play
Swings – Traditional, toddler and ADA accessible
Waterplay – A fully accessible splash pad for those hot summer days
Music Section – For audible stimulation and creativity
Toddler and 5-12 sections – Fully ramped and accessible
Surfacing – Poured-in-place
Climbing Net – Complete with custom seats
Rollerslide and metal slides – Available for those with chochlear implants
5. New York Hall of Science Playground: Corona, New York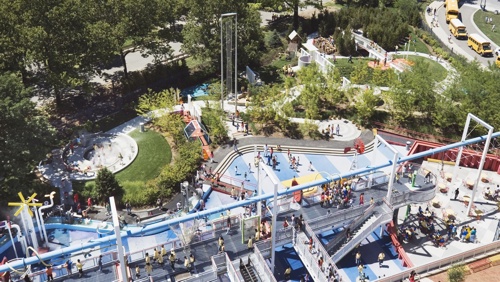 Through dozens of playground elements like slides, seesaws, sand pits, and fog machines, visitors of all ages and abilities can explore the scientific principles of motion, balance, sound, sight and simple machines, as well as sun, wind and water.
Designed for children of all ages, Science Playground exhibits include a giant lever, Archimedes screw and water play area, wind pipes, a climbing net, slides, sand boxes and metal drums.
6. Riverview Park: Mesa, Arizona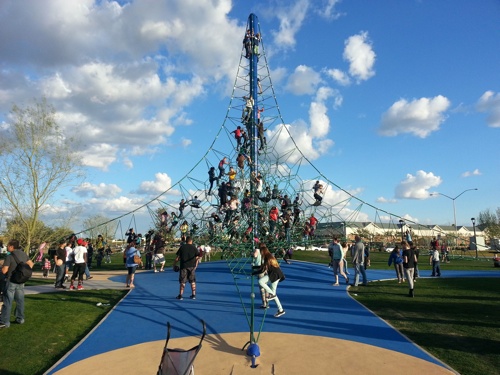 After a major renovation project, Riverview is now home to the Cubs Spring Training Facility, Cubs Park, and the park itself has been transformed into a premier recreation destination.
Cubs Park, the new Spring Training home of the Chicago Cubs.
Urban Fishing Lake
Spray ground with multiple water features
Playground extraordinaire including:

50 foot tall Genesis climbing tower
60 foot long caterpillare mesh rope climbing structure
2 playground clusters for ages 2-5, 6-12 and above
Shaded picnic areas with tables
Reservable ramadas - Reservations (480)-644-4271
Miles of accessible sidewalks
Display fountain
Open play areas
Restrooms
7. World of Wonder Playground: Athens, Georgia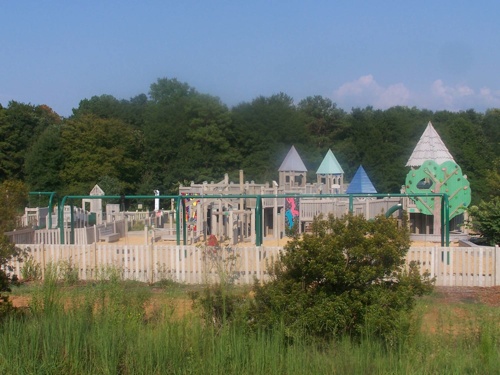 Georgia's largest community-built playground is almost two acres of playscapes, mazes, slides, swings, bridges, tunnels, and climbing walls. And there's more! An enclosed toddler area, gardens, and outdoor children's art.
8. Brooklyn's Playground: Pocatello, Idaho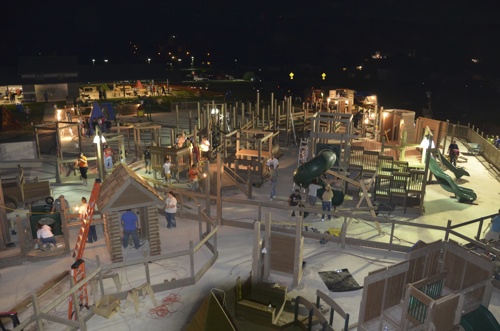 Brooklyn's Playground is a community-wide volunteer effort to build the first fully-inclusive playground for the Pocatello-Chubbuck area, a place where children of all abilities can come together, interact, and grow through "the gift of play."
9. Tatum's Garden: Salinas, California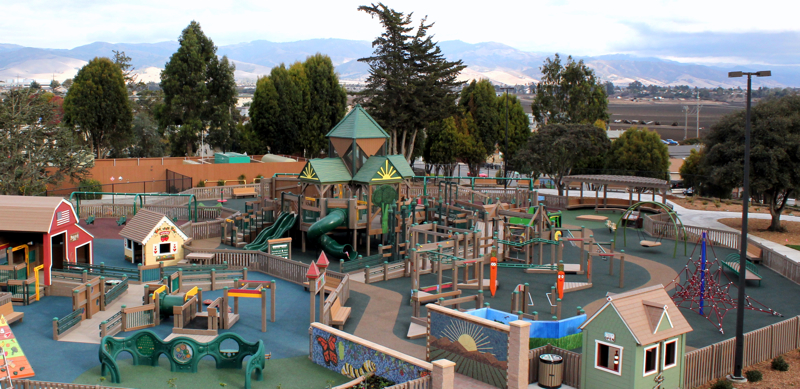 One of the most exciting things about Tatum's Garden is that it is a truly unique, one-of-a-kind playground! Tatum's Garden has an agricultural theme—a virtual vegetable garden in a playground—and reflects the Salinas Valley's rich agricultural history.
10. Westminster Center Park: Westminster, Colorado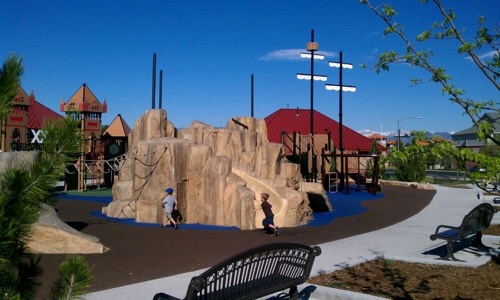 This well manicured 10-acre park with an obelisk at its center features an amphitheater & play area. This park has a Peter Pan theme. From the Darlings house to the Lost Boy's tree. The kids love it! The water features in the summer make it even better.

11. Shiver Me Timbers Playground: City of Lake Charles, Louisiana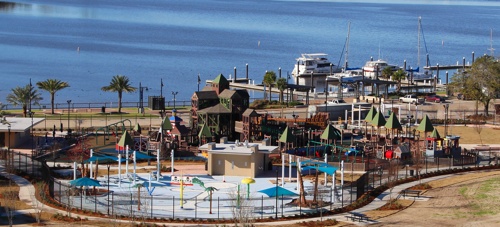 Shiver Me Timbers- Millennium Park was built in 2000 by over 6,000 residents and volunteers of Calcasieu Parish, Louisiana. During a 10 day period Lake Charles, Louisiana businesses sponsored, volunteers helped and supplies were donated to build this wonderful park in downtown Lake Charles on Bord du Lac Drive. There is an enormous, "Eagles Nest" treehouse where children can climb to the top and see the whole playground. There is a tire swing, an accessible swing, infant swings, and regular swings. The play surface is smooth (no wood chips) so wheelchairs can move more easily through the playground. As if all of this were not enough, there is also a splash park/sprayground on site! Further, the playground is right on the water so parents have a wonderful view while watching their children play.
12. Rural Studio Lion's Park Playscape: Greensboro, Alabama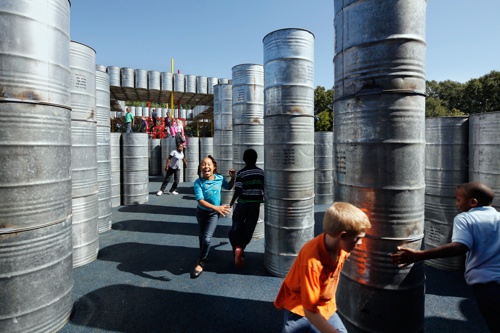 It takes a certain type of imagination to build an entire playground out of recycled 55-gallon drums, and that's exactly what students from Auburn University's Rural Studio did when redesigning the Lions Park Playscape in Greensboro, Alabama. Using 2,000 donated galvanized steel drums that had previously been used to transport mint oil, the students created a one-of-a-kind maze-like playground that promotes creativity.
13. The Geometry Playground: Traveling Provided By Exploratorium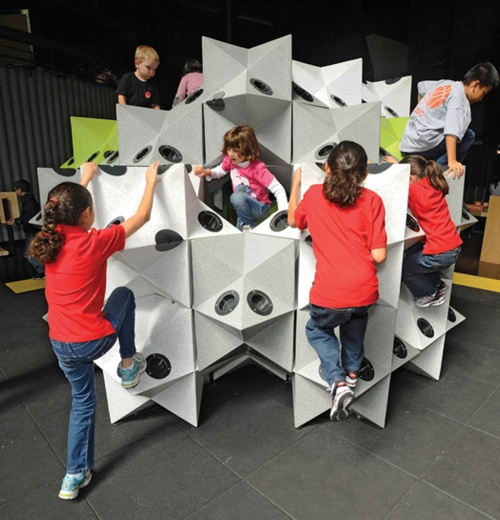 Geometry Playground is a project of the Exploratorium in San Francisco. Its largest product, four years in the making, is a major traveling exhibition that encourages visitors to use spatial reasoning, a kind of thinking where you make mental pictures of shapes and spaces. But the project was much more than just the exhibition. Geometry Playground also infused playgrounds with geometry. They installed a geometric net climber, together with label featuring geometry challenges and games.
14. Rotary Centennial Park: Jonesboro, Arkansas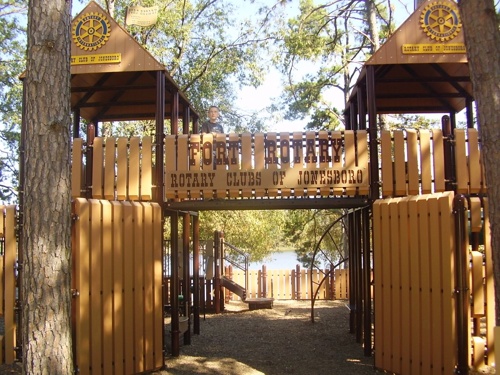 Rotary Centennial Park, located on Rotary Way, is designed so that handicapped children can play alongside able-bodied friends. The park not only includes a playground, but it also includes a bank shot basketball court and a splash pad.
15. Preson's H.O.P.E.: Beachwood, Ohio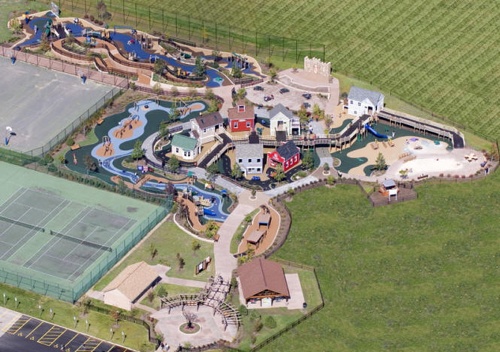 Preston's H.O.P.E., a playground for children with all levels of abilities and disabilities, is located on the property of and operated by the Mandel Jewish Community Center in Beachwood, Ohio, and is open to the public. This location was selected as it provides easy accessibility from all parts of Cleveland and surrounding communities. The Inspiration for Preston's H.O.P.E. came from very special friends and family of a little boy born with Spinal Muscular Atrophy (SMA). They believed that if his dreams were to play in a park with all other kids, then there must be many, many other children with the same dream as well.